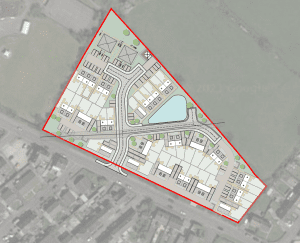 INTRODUCTION
DPP Planning are preparing to submit a planning application, on behalf of Strata, for the erection of 46 dwellings on land off Park Lane, Shirland. Strata believe that undertaking public consultation with local residents in advance of submitting a planning application is an important part of the planning process and allows members of the public and the local community to engage with the vision for the site and to provide valuable feedback on the proposals.
SITE DESCRIPTION 
The site, which is shown edged in red in Figure 1 below is located to the south of Shirland to the north of Park Lane. It is bounded to the east by rear gardens of the properties that lie off St Leonards Place. To the south the site is bounded by a hedgerow beyond which is Park Lane. To the north west there is a further mature hedgerow beyond which are the playing fields associated with Shirland Primary School. The north east of the site is bounded by a hedgerow beyond which is a paddock. The site is triangular in shape and is about 1.43 hectares in size.
An aerial image of the site is shown below:
STRATA

Strata is a Yorkshire based business with developments across Yorkshire and the Midlands. They build contemporary new homes and are dedicated to building homes of the highest standard. A love of design is echoed throughout every house type, street scene and show home created by Strata. They have an unrivalled attention to detail and care for product quality and specification.
OUTLINE PERMISSION

This site has previous Outline Planning Permission for up to 50 dwellings which was approved in September 2018. Following this a Reserved Matters application was submitted pursuant to the Outline Planning Permission in September 2021. The Outline Planning Permission has now expired and a new full planning application will be submitted.
NORTH EAST DERBYSHIRE LOCAL PLAN 2014—2034
Within the adopted North East Derbyshire Local Plan, the site is allocated for housing under allocation SH2. The extent of the allocation is shown on the Policies Map extract in Figure 2 below.
PROPOSED DEVELOPMENT
The proposal is for the of development of 46 two and two and a half storey dwellings. The proposal will deliver eight 1-bedroom properties, thirty-five 3-bedroom properties  and three 4-bedroom properties. The proposed development incorporates properties that front onto Park Lane.
Vehicular access to the proposed development will be via the main access road from Park Lane. The main access road curves into the site before it spurs off to the east. At this junction a dwelling  has been located  to act as a focal point. From the main access roads several private drives are taken which marks a transition to more pedestrian spaces.
At the centre of the proposed development there is large area of open space which also acts as an attenuation basin during abnormal periods of rainfall. The basin will be dry the majority of the time. This area is over looked by the proposed dwellings. Off street parking will be provided for each property.
TELL US WHAT YOU THINK
We would welcome any feedback you may have on the proposed development. In the first instance, please send any comments you may have to consultation@dppukltd.com where your comments will be logged and any queries answered.
If you would feel more comfortable providing written comments, please post your comments to:
DPP. One Park Row, Leeds, LS1 5HN
We will review your comments in partnership with Strata.
Please provide your comments by 11th March 2022.
Once the planning application has been submitted, full details will be available on the North East Derbyshire council wesbite and there will be further opportunity to comment.
We look forward to receiving your comments on the proposed development.
Please be aware that comments left on any public consultation exercise, either by email or any other means, are subject to the terms of our Privacy Policy. Please read this policy carefully as by submitting the information you are consenting to our use of your personal data in accordance with the Privacy Policy.
Your personal data will be retained on our secure database and will not be passed to our clients.
We may also like to contact you to keep you informed about future developments relating to this consultation. You will be able to opt-out of these communications at any time.