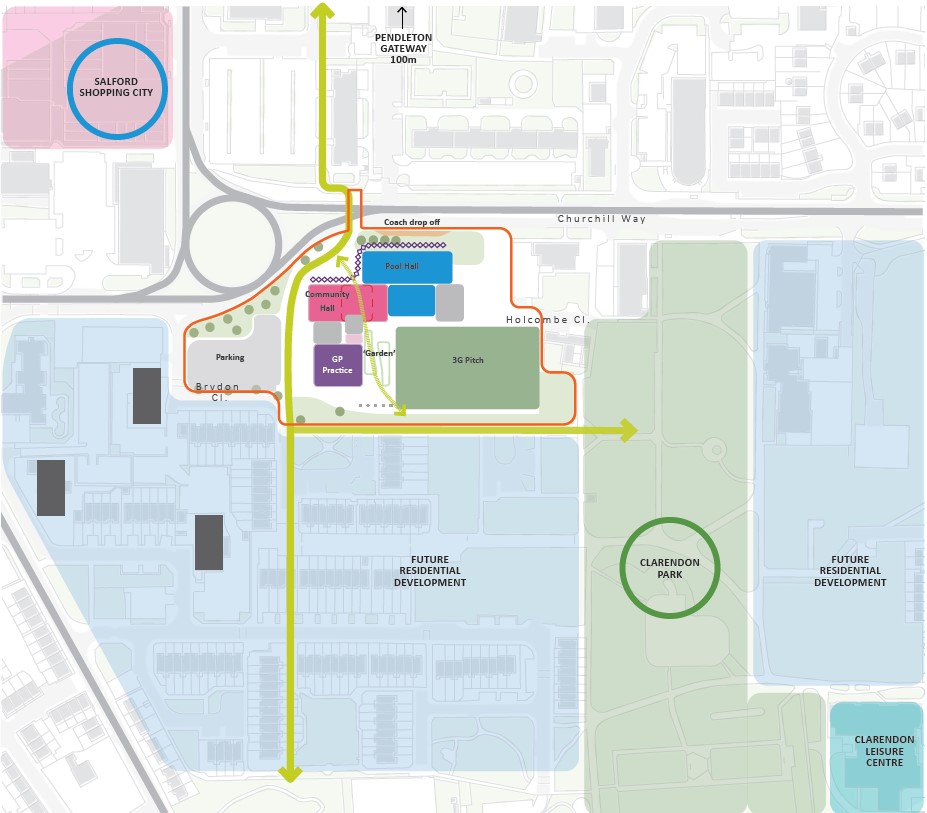 INTRODUCTION
Welcome to the public consultation website for the proposed development of a new community wellbeing centre at Holcombe Close, Pendleton, Salford.
Salford City Council have been developing exciting plans for a new Community Wellbeing Leisure Centre for Pendleton, working in partnership with Salford Community Leisure. The new centre will replace the ageing Clarendon Leisure Centre and will provide modern and flexible sports and leisure facilities with a health and wellbeing focus to meet the needs of Pendleton and surrounding areas.
A planning application will be submitted to Salford City Council shortly for the development of a new community wellbeing centre at Land at Holcombe Close, Pendleton, Salford, and we are providing you with the opportunity to view and comment on the proposals in advance of the planning submission.
This public consultation is an opportunity for you to engage with our vision for the site and to provide us with valuable feedback which will help shape the future of this exciting project for Pendleton.
You can submit your comments via the feedback form provided below.
BACKGROUND
Pendleton is a suburb of Salford, Greater Manchester, and sits to the south of the A6. The suburb is approximately 2 miles north-west of Manchester city centre with direct train links to Manchester Piccadilly.
The site is located to the south of Churchill Way and to the east of Holcombe Way. The site is well located and is within proximity to a number of local amenities as well as residential areas.
Salford has a rich history of textile processing that pre-dates the Industrial Revolution, with a focus on heavy woollen goods and fustians trade prior to the introduction of cotton. When the Industrial Revolution came to fruition it transformed the process of textile manufacturing, and had a profound effect on the socioeconomic and culture of Salford due to the increase in population and urbanisation.
The area's architecture varies greatly across Salford. There is a real mix of building typologies and architectural styles that range from the late 1960's Salford Shopping Centre to the present day Salford Quays. This theme continues in the local material palette, however, the area still retains a strong brick presence; a product of the Industrial Revolution.
THE PROPOSAL
The proposed leisure centre will provide modern, flexible sports and leisure facilities to meet the needs of Pendleton and its surrounding area. The leisure centre will include wet and dry areas alongside a communal area which will provide a number of different services.
The site's location in relation to the town centre and local amenities presents a great opportunity for a sustainable community hub, offering a variety of programmes and activities for local residents to participate in. With established public transport infrastructure in proximity, and a newly proposed on-site provision, this should allow easy access to a wider catchment of users.
Key Themes
"Creating an inclusive community facility to be proud of and enjoyed by all"
The key themes are general principles that will guide and inform the concept design.
Integrated

– Should be integrated into its locality. It should create wider connectivity to the local area to both gain from and support other local spaces.

Identity

– Should enhance and reference the identity of its location and community. It should provide a space that people can be proud to use and encourage social cohesion.

Indoor/Outdoor

– Encouraging more activity and promoting good health cannot be limited to the interior of the centre. Connection to the outdoors and the natural world is inherent to mental well-being.

Inclusive

– Should be an inclusive facility, meeting both the physical and well-being needs of its users regardless of their ability, outlook and perception.

Approachable

– The delivery of each successful project will rely on strong collaboration between a number of parties, it should be inviting, warm and friendly

Community

– A successful project should be a safe and secure facility, providing a welcoming environment for all user groups.
Strategic Moves
As part of developing a building concept it is important to define the core ideas that have developed.
Public Square
Forming a space that offers flexibility of function and use.
Visibility of space, through space and of activity on offer to encourage participation.
Open to all.
Urban to Park
A community centre that mediates between the urban and the park setting.
A scheme that physically connects the town centre with Clarendon Park.
Connecting indoors and outdoors promoting well-being.
Adaptable Space
A central space that offers the local community and groups flexibility for a variety of activities.
A range of different types of space.
Space to meet, discuss, exhibit, perform.
Relatable Design
A rational, robust design.
Appropriate, approachable scale.
Clearly express function and activity.
A range of space types to accommodate all. • Reference to the history of the site and surrounding area.
The Design
The wet area of the leisure centre will provide swimming pool facilities, including a 6-lane swimming pool, a learner pool and a splash pad. The dry area will provide a fitness suite, studios and changing facilities, whilst the community area provide a café and community rooms. The community hall will cater for sport provision and community events. A GP surgery will also be provided within the proposed development, whilst a 9v9 3G football pitch will be provided outside the facility with an adjacent garden and outdoor activity space.
It is hoped the proposed leisure centre will act as a connecting node between the town and Claredon park to the south-east of the site, offering presence facing the town and the public transport interchange, and a connection through green spaces and physical activities to the park.
The proposed Pendleton Leisure Centre will provide an inclusive space that meets both the physical and well-being needs of its users regardless of their ability, outlook and perception. The building will both enhance and reference the identity of its location and community, and will provide a space that people can be proud to use whilst encouraging social cohesion.
Further details can be found on the plans and information boards below.
PROVIDING FEEDBACK
We would welcome any feedback you may have on the proposed development. Please use the feedback form below to submit any comments.
Please submit your comments by 27th June 2021.
Once the planning application has been submitted, full details will be available on Salford City Council's website.
---
CONSULTATION BOARDS
You can download a full set of consultation boards HERE.
Individual boards can be viewed and downloaded below.
A copy of the consultation boards can also be viewed at the following locations on 12th-27th June 2021:
– Pendleton Gateway, 1 Broadwalk, Salford, M6 5FX; and
– Clarendon Leisure Centre, Liverpool Street, Salford, M5 4HU.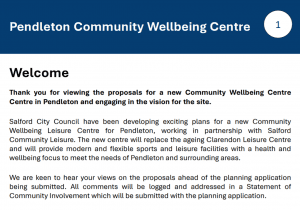 LOCAL CONTEXT AND SITE HISTORY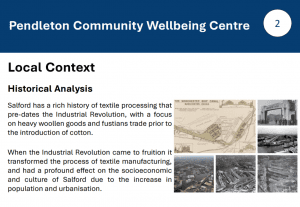 APPROACH AND SITE CONSTRAINTS/OPPORTUNITIES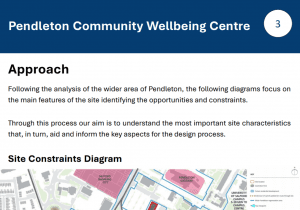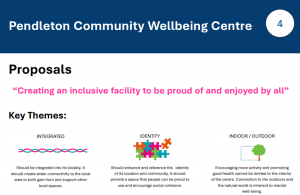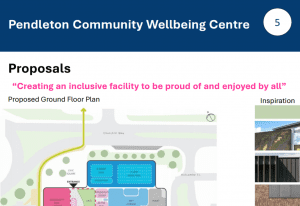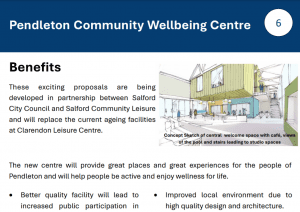 Please be aware that comments left on any public consultation exercise, either by email or any other means, are subject to the terms of our Privacy Policy. Please read this policy carefully as by submitting the information you are consenting to our use of your personal data in accordance with the Privacy Policy.
Your personal data will be retained on our secure database and will not be passed to our clients.
We may also like to contact you to keep you informed about future developments relating to this consultation. You will be able to opt-out of these communications at any time.