DPP's Cardiff office has submitted plans for 15-storey purpose-built student accommodation (PBSA) building at Curzon Circle, next to Birmingham City University and the emerging HS2 Curzon Street Station.
The scheme will provide 381 student bed spaces including a mix of multi-bed and studio apartments and is a response to market demands for a prime location from students of Birmingham City University and Aston University.
The building, designed by DCSK Architects, will be formed by an alternating pattern of solid pre-cast concrete panels, aluminium panels and glazed openings to create a high-quality finish.
Working on behalf of Reuben and Morgan, this application follows DPP's recent successes in the Birmingham PBSA market at Lancaster Street and Bagot Street.
We are delighted to have submitted another PBSA scheme in the heart of Birmingham. The site's location, next to Birmingham City University and the emerging HS2 station will be subject to positive change over the coming years as part of the Council's Curzon Street Masterplan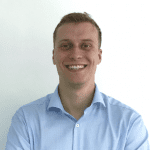 Tom Wright, Planner, DPP
Image courtesy of DCSK Architects