DPP's Newcastle office is preparing to submit an application for one of Newcastle's biggest regeneration schemes, Quayside West. The £250m Urban Village will create more than 1,000 jobs for the area, provide up to 1,500 new homes and deliver much-needed investment and employment into the region over the course of the next 10 years.
On behalf of North Yorkshire mixed-use developers Newby, and working alongside award-winning local architects FaulknerBrowns, DPP will submit plans to redevelop an area of the city which has been vacant for the past 20 years. The former Calders site sits between Central Station and the Quayside at Skinnerburn Road and if approved will be the third scheme of its kind in the North East to go ahead for DPP and FaulknerBrowns, following Durham Riverside Renewal projects, Milburngate and Freemans Reach.
Talking about the scheme, DPP Associate Director, Jo Robison said;
It's fantastic to be part of such an ambitious and exciting project, that will have such a positive impact on the region both in terms of employment and regeneration.  We're looking forward to working with Newby and FaulknerBrowns to bring it to life.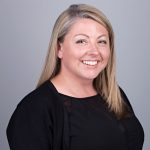 Jo Robison, Associate Director
Image courtesy of PLAY-TIME and FaulknerBrowns Architects