Representing Caddick Land, DPP's Leeds office has secured planning permission at appeal for a development of 49 dwellings on land in the open countryside adjoining the village of Maulden, Bedfordshire. At the appeal, the weight to be given to the development plan and its associated policies were extensively debated, together with issues relating to 5-year housing land supply. DPP argued that the development plan was out of date and that the harm caused by development in the countryside on visible rigid and furrow earthworks, next to a potentially medieval rabbit warren (both non-designated heritage assets) were outweighed by the benefits that the development would bring to the village.
Speaking about the scheme, Chris Procter,  Director at Caddick Land said;
Mark and the team did a great job in managing this complex case to achieve a positive outcome. The Inspector's verdict vindicated the decision to appeal, but it was the professionalism of the team and the quality of the case they made that ensured the right result was achieved.
The plans submitted were highly sensitive to the landscape context of the site, preserving key views and enhancing the site's ecological value through the use of open space and the delivery of a wildlife corridor. Work is due to begin onsite later in 2019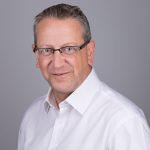 Mark Lane, Director, DPP Leeds
Image courtesy of PRA Architects