On behalf of  Fusion Students, Litton Property Group & Buccleuch Property, DPP's Leeds office have gained approval for a £80m, 864-bed student/co-living scheme in Sheffield.
A key regeneration scheme for the Devonshire Quarter area of the City, it will be managed by Fusion Students across four buildings, the tallest of which is 17 storeys high. The scheme has been designed by Corstophine + Wright and features a light-weight glass bridge linking two of the blocks
Mark Twelves, managing director of Litton Buccleuch, said:
The finished product will provide high specification student living in a prime location between the University of Sheffield and Sheffield Hallam University and within the inner ring road.

The scheme incorporates co-living use that provides the flexibility to offer short terms lets to graduates and young professionals outside of term time. In the longer term, this flexibility will also allow the scheme to adapt to changing market conditions and accommodation demands in the city centre.

The city council, its planners and both universities are in broad support of the scheme that will complement Sheffield council's progressive regeneration proposals for the city centre and provide the universities with a further selling platform in a very competitive market.
Work will start later in 2018, with a target to complete in time for the new student intake in autumn 2020.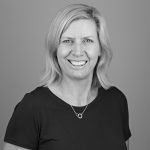 Michelle Davies, Director, Head of Education
07415 513459