PROPOSAL FOR A NEW SEND SCHOOL AT MOOR LANE, CHESSINGTON

Introduction
Welcome to the public consultation page for the exciting proposals for a new Special Educational Need and Disability (SEND) School at Moor Lane, Chessington.
A planning application for the proposed development is due to be submitted to London's Royal borough of Kingston-upon-Thames council shortly, and we are providing you with the opportunity to view and comment in advance of the formal submission.
The proposed development is being brought forward to meet the growing need for SEND School places in Kingston and neighbouring authority areas. The school is being delivered by Eco Modular Buildings, and will be funded by the Department for Education (DfE). The school will be operated by the Ambitious about Autism Schools Trust, and will be known as Spring School. The Trust, which currently manages 3 specialist education settings, deliver high quality and innovative specialist education for autistic pupils with an education philosophy that is underpinned by the intention to improve the quality of life of pupils and learners.
Eco Modular Buildings, the DfE and the Trust all value the input of the local community in developing the vision for the school and would welcome your comments on the proposed development. Details of how to comment are provided below.
The Site
The proposed SEND school is located adjacent to the existing Moor Lane Centre, situated to the north of Moor Lane in Chessington, Kingston. The site is currently occupied by a recently constructed Respite Care Centre (in the northwest corner), in addition to the Moor Lane Centre building itself, and two disused ancillary buildings to the east. The remainder of the site is comprised of a parcel of flat grassland.  
Access to the site is gained from Moor Lane and Bridge Road to the south via the existing mini roundabout, and through the existing Moor Lane Centre car park. The site lies within a predominantly residential context. There are existing dwellings located in proximity to all four boundaries (particularly the existing houses located on Melford Close adjacent to the southern boundary).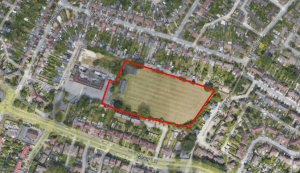 The Proposal
The proposed SEND School will provide up to 104 places for children and young people, aged between 4 and 19, who have autism spectrum disorders (ASD). The new school will help to reduce the number of children and young people with ASD having to travel to schools outside the Borough to gain access to the support they need.
As indicated on the attached plans and images, the proposed school is comprised of a two storey L shaped building, designed to make most effective use of the site.  The ground floor will accommodate the main hall, dining areas, and a range of primary and reception class rooms. It will also include a library, soft play room, sensory / immersion room, quiet / calming room, and staffroom / offices.  The first floor accommodates additional secondary and sixth form classrooms, including science studio, art and design studio, a life skills kitchen and multiple small group/quiet bay rooms.
Externally, to the east of the school, a hard-surfaced play area is proposed, whilst a dedicated habitat area is located adjacent to the southern boundary. A large swathe of open grassland is retained to the east of the school.
Vehicle access to the site is gained via the Moor Lane Centre car park. The access leads into a drop off / collection area, and a staff / visitor car park accommodating approximately 47 parking spaces. Disabled parking bays and cycle storage facilities are also accommodated within the car park. The layout incorporates a one-way system, to ease the flow of traffic. Pedestrian access is likewise gained via the Moor Lane Centre, through the existing pedestrian gate in to the site. The entire layout is supplemented by a detailed scheme of landscaping, which seeks to retain the majority of existing trees across the site, and supplement such with additional planting.
The new school building will be of modular construction which delivers a number of sustainability benefits as well as significantly reducing on-site construction time and disruption when compared to traditional construction methods.
The full Consultation Board can be viewed below:
Please click here or below to download a PDF copy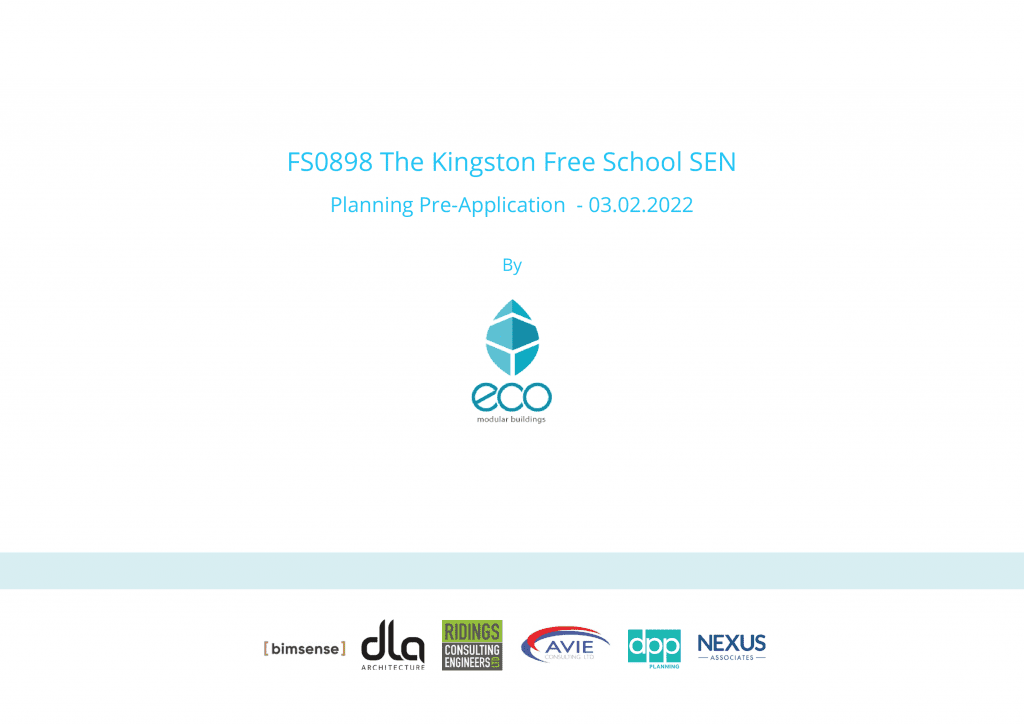 Ambitious about Autism is the national charity that stands with autistic children and young people so they can be themselves and realise their ambitions. What started as one school founded by a group of parents in 1997 has become a movement for change.
Ambitious about Autism's overarching aim is that all autistic children and young people have an excellent and inclusive education that enables them to learn, thrive and achieve. Ultimately, this will support them to have a good quality of life, including the realistic prospect of living and working as part of their communities.
Their first school, TreeHouse School, was set up in 1997, and remains dedicated to educating pupils with autism aged 3-19, it is rated Ofsted Outstanding.
The Ambitious about Autism Schools Trust was established as a Multi-Academy Trust to support the development of new special schools. In 2014, the Trust set up their first special free school, The Rise School. The Rise School in Feltham, Hounslow caters for 100 pupils with autism, between the ages of 4 and 16. Whilst The Rise Sixth Form, for pupils aged 16 to 18, is co-located at West Thames College so that pupils access a wider mainstream curriculum whilst still receiving specialist autism support.
The Trust also run Ambitious College, which operates two campuses, also co-located within mainstream further education colleges: The College of Haringey, Enfield and North East London (CONEL) and West Thames College. Ambitious College was London's first specialist day college for young people aged 16-25 with autism
Their schools and colleges are designed to offer specialist education and support to enable more children and young people to access the high-quality education that they deserve. They offer a broad and challenging curriculum in an environment of high expectations and close individual focus offering quality academic and social curriculums.
Further information about Ambitious about Autism can be found on the Trust's website: Ambitious about Autism
Providing your Feedback
We would welcome any feedback you may have on the proposed development. Please send any comments you may have to consultation@dppukltd.com where your feedback will be logged and any queries answered.
Alternatively, if you prefer not to use a computer, please feel free to post your comments to:
DPP, One Park Row, Leeds, LS1 5HN 
Please note hard copies of the consultation materials and plans can be requested by contacting the following number: 07870 560411.
We will review your comments in partnership with Eco Modular Buildings and the wider design team. 
Please provide your comments by 11th March 2022.
Once the planning application has been submitted, full details will be available on the Council's website and there will be a further opportunity to comment. 
We look forward to receiving your comments on the proposed development.
Please be aware that comments left on any public consultation exercise, either by email or any other means, are subject to the terms of our Privacy Policy. Please read this policy carefully as by submitting the information you are consenting to our use of your personal data in accordance with the Privacy Policy.
Your personal data will be retained on our secure database and will not be passed to our clients.
We may also like to contact you to keep you informed about future developments relating to this consultation. You will be able to opt-out of these communications at any time.