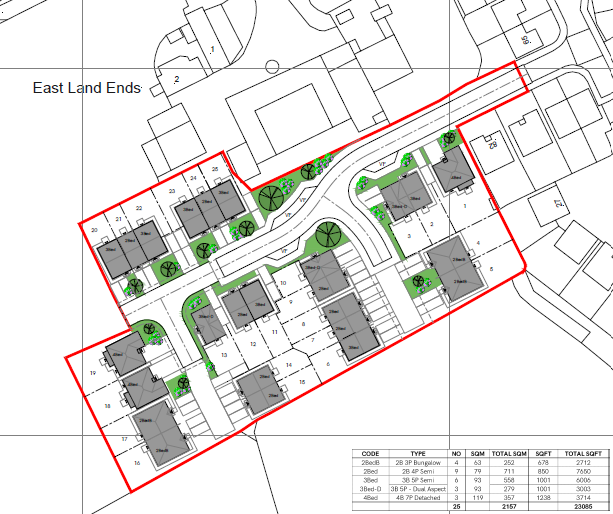 Introduction
Welcome to the public consultation page for a proposed development to demolish the existing agricultural buildings and construct 25 affordable homes at East Lands End, Haydon Bridge, Hexham, Northumberland. The proposals will shortly be the subject of a formal planning application to Northumberland County Council but before this, we are providing an opportunity for local residents to view and comment on the proposals.
The Site
The site is located to the south west of Haydon Bridge in Northumberland and extends to 0.72 hectares (1.79 acres). The site mostly comprises an agricultural field, as well as agricultural buildings in the north of the site.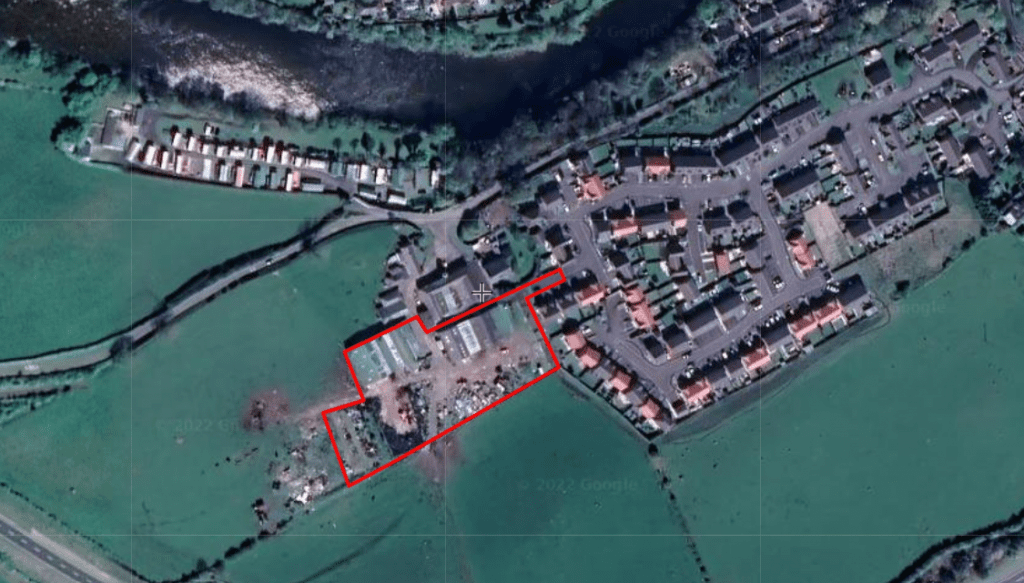 Haydon Bridge centre is situated approximately 540 metres north east of the site and contains local amenities. There are two bus stops within around 690m radius of the site, with buses every hour travelling to Newcastle and Carlisle, services are also provided to Hexham and Alston. Haydon Bridge train station is also situated around 660m north-east of the site, which provides regular services to Newcastle, Hexham and Carlisle. Therefore, the site is considered to be situated within a sustainable location.
Access into the Site is gained from the Showfield development to the east.
The Proposal
The proposed development is for the demolition of the existing agricultural buildings and the construction of 25 affordable homes with associated access and landscape works at the site.
The proposed development will be delivered for Castles & Coasts Housing Association, and will provide 25, mostly affordable rent and a small number of intermediate home ownership dwellings. This far surpasses the affordable requirements of a commercial residential development and therefore strongly contributes to local needs for an increase in affordable housing. Castles & Coasts Housing Association is a not for profit registered provider of affordable housing.
As part of the proposals, Castles & Coasts Housing Association have considered the provisions within the Haydon Parish Neighbourhood Plan and Housing Needs Survey and as such, have designed the type and tenure of the homes to meet evidenced local housing need.
The housing units are currently designed to meet Nationally Described Space Standards and will be highly energy efficient to reduce energy costs for tenants and home owners. The intended accommodation mix includes bungalows, semi-detached, dual aspect and detached houses, totalling 2157sqm, split as follows:
4no. 2-bed bungalows, comprising 63sqm each;
9no. 2-bed semi-detached houses, comprising 79sqm each;
6no. 3-bed semi-detached houses, comprising 93sqm each;
3no. 3-bed dual aspect houses, comprising 93sqm each; and
3no. 4-bed detached houses, comprising 119sqm each.
There has been a previous outline planning approval for a residential development comprising 16 dwellings on this site, therefore, it is considered that the principle of a residential development on the site has already previously been established as acceptable.
Please see a link to the Indicative Proposed Site Plan below.
About Castles & Coasts
Castles & Coasts is a Housing Association whose mission is to provide affordable homes and sustainable communities with pride, passion, principles and partnership. Castles & Coasts have a target to create 600 new homes by 2026 which will meet the needs of communities and are both largely affordable and efficient in use, with an aspiration for new homes to be Carbon Net Zero ready by 2024. In doing this, Castles & Coasts provide safe and thriving communities with a mix of tenures to support successful, mixed communities.
---
Providing your feedback
We would welcome any feedback you may have on the proposed development and would be grateful if you could return any comments by 9th October 2022. Please use the below form to provide your feedback.
Please also email Castles and Coasts Housing Association development department at: development@castlesandcoasts.co.uk to register your interest in the homes that will be available for Shared Home Ownership and Rent to Buy, note that local eligibility occupation criteria is likely to apply.
The Castles and Coasts Customer Services Team is available to contact by phone Monday to Friday, 0800 085 1171, between 9am and 5pm should you wish to discuss the proposals.
Once the planning application has been submitted, full details will be available on Northumberland County Council's website.
Please be aware that comments left on any public consultation exercise, either by email or any other means, are subject to the terms of our Privacy Policy. Please read this policy carefully as by submitting the information you are consenting to our use of your personal data in accordance with the Privacy Policy.
Your personal data will be retained on our secure database and will not be passed to our clients.
We may also like to contact you to keep you informed about future developments relating to this consultation. You will be able to opt-out of these communications at any time.