Having already secured planning permission for the UK's first State funded Hindu secondary school, Avanti House in 2016, DPP London is delighted to announce permission has now been granted for a brand new performing arts centre and sixth form block at the school in Stanmore, Harrow.
The two-and-a-half storey tall building will include; sixth form break-out spaces, kitchen and dining facilities, classrooms and a flexible exam, teaching and learning hall. The proposals also include a recording studio and a 400-seat theatre which will enable the school to fulfil its performing arts specialism.
Bob Robinson, Director DPP London said;
This project was a follow on from our earlier success with Avanti House School, and whilst the scheme clearly compliments the recently developed school, it was still necessary to convince the LPA that the policy context of the site had now changed and the site should not be viewed simply as protected open space.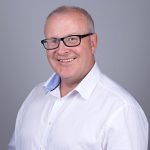 Bob Robinson, Director, and Head of DPP London
Image courtesy of Pick Everard