Only 3 working days left before Christmas and we'd like to highlight this year's DPP promotions; Matt Rhodes and Jen Patterson who progressed from Senior Planner to Principal and Tom Wright, Oliver Corbett & Nicola Crowley who became Senior Planners.
Further congratulations also, to our newest board Director, Jo Robison. Following the hugely positive impact she has had on the company since she joined in 2016, Jo was promoted in February and has never been busier, with several high-profile schemes under her leadership in the North East. More to follow on those in the New Year.
---
Next up we look back at our work in the #retail and #leisure sectors…
…and we're delighted that schemes we've worked on will create over 5,600 jobs across the UK in more than 68,000 m2 of A1/A3 & C1/D2 space. We've worked on behalf of high street brands like Lidl, Co-Op, Domino's, Premier Inn, and BMW as well as bringing forward new leisure centres for Berwick & Morpeth in the North East. Watch this space in 2020 to see if Bowcliffe Hall adds their new 'Wheel' conference space to the beautiful estate and wedding venue…
Image credits. Below; Bowcliffe Hall's Wheel; The Harris Partnership & above bottom right; Berwick Leisure Centre; GT3 Architects
---
Continuing with our review of 2019 and we take a look at our #Residential achievements this year…
With more than 6,800 units delivered or consented, there's been a nice variety in the types of schemes we've worked on; from 650 new houses in Creigau on the outskirts of Cardiff, and an urban, mixed-use project like Globe House in Bristol, to Head of Residential Mark Lane's greenfield appeal win in Bedfordshire.
And things are not slowing down in this sector either, with some exciting news due on Parc Hadau, one of the World's first 'true net-zero' residential schemes…
Image credits – above: ECE Westworks & below: Loyn & Co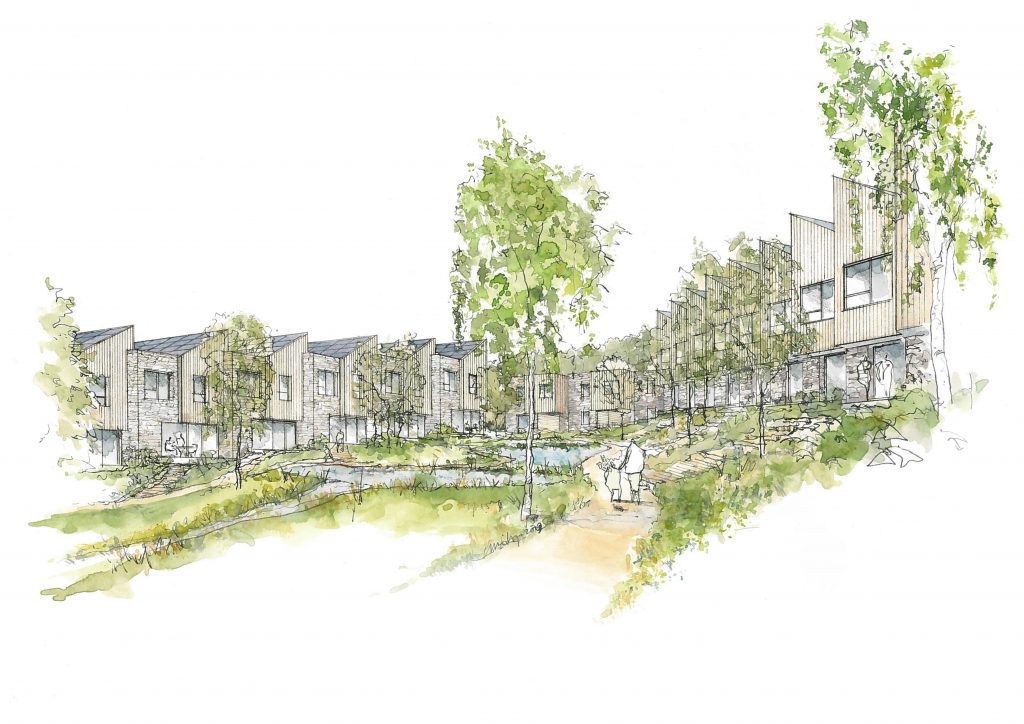 ---
DPP has delivered over 567,138 m2 of land for our clients this year, including some very exciting #regeneration schemes like; Church Wharf in Bolton (main image above courtesy of AEW Architects), a £150m investment in the town centre's riverside area, £120m Milburngate  (image top right courtesy of FaulknerBrowns) in Durham, which began construction onsite in February & Aycliffe Business Park in Newton Aycliffe, County Durham, which is set to deliver over 3,000 new jobs to the region.
Image below Brett Wharf Gateshead (Credit: The High Street Group)
---
With only 7 working days left until Christmas, we're taking some time to reflect on the highlights of the year starting with…
#Education. A massive 15,823 places were consented or delivered by Q3 in 2019 by Head of Education Michelle Davies and team, who brought forward a wide range of schemes including Grade II listed Dixons 6th Form Academy in Bradford (main image below left courtesy of Bond Bryan Architects), teaching & welfare facilities for over 5,000 school children for Eco Modular  (image below top right courtesy of Lungfish Architects) & the £40m Maths & Computer Science building for Durham University which has accrued over 4,000 study hours in its first term. (image below bottom right courtesy of Durham University)
Pictured below, DPP at this year's Education Buildings Wales Awards