TITLE (PROPOSED xxxxx AT xxxxxx) Introduction
Introduction text
The Site
Short Site Description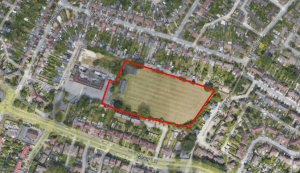 The Proposal
A few paragraphs setting out the proposal.
Providing your Feedback
We would welcome any feedback you may have on the proposed development. Please send any comments you may have to consultation@dppukltd.com where your feedback will be logged and any queries answered.
Alternatively, if you prefer not to use a computer, please feel free to post your comments to:
***OFFICE ADDRESS***
Please provide your comments by XXXXX.
Once the planning application has been submitted, full details will be available on the Council's website and there will be a further opportunity to comment. 
We look forward to receiving your comments on the proposed development.
Please be aware that comments left on any public consultation exercise, either by email or any other means, are subject to the terms of our Privacy Policy. Please read this policy carefully as by submitting the information you are consenting to our use of your personal data in accordance with the Privacy Policy.
Your personal data will be retained on our secure database and will not be passed to our clients.
We may also like to contact you to keep you informed about future developments relating to this consultation. You will be able to opt-out of these communications at any time.