Public Consultation Exercise for proposed new build and refurbishment works at Chapel Allerton Hospital, Chapeltown Road, Leeds, LS7 4SA
Introduction
DPP Planning are preparing to submit a planning application on behalf of our client, Kier Construction (on behalf of The Leeds Teaching Hospitals NHS Trust) for the refurbishment of existing internal areas, the erection of a new theatre and office extension and provision of a new surface car park at Chapel Allerton Hospital, Chapeltown Road, Leeds, LS7 4SA.
The applicant would like to engage with the local community for feedback prior to the finalising of the application proposals, and have issued this leaflet to provide more information on the scheme and an opportunity to comment.
Site Description

The wider site extends to approximately 4.38Ha and is located approximately 0.28km from Chapel Allerton District Centre. It currently comprises of the Chapel Allerton Hospital campus including existing hospital buildings, ancillary office buildings, an existing Jewish Mortuary in the south-eastern part of the site and various car parking areas.
The application site will comprise a smaller area within the wider hospital complex measuring 1.14ha.
The surrounding area is mostly residential, with some community facilities such as a places of worship (Polish Catholic Centre, St. Martins Church, The Sikh Temple), a primary school, some shops and Potternewton Park to the east. The main access to the hospital is via Chapeltown Road, which provides route to staff car parking within the site. There are two exits from the staff car parks via Newton Road and Harehills Lane. There is a separate pedestrian route off Chapeltown Road, providing direct and safe access to the hospital.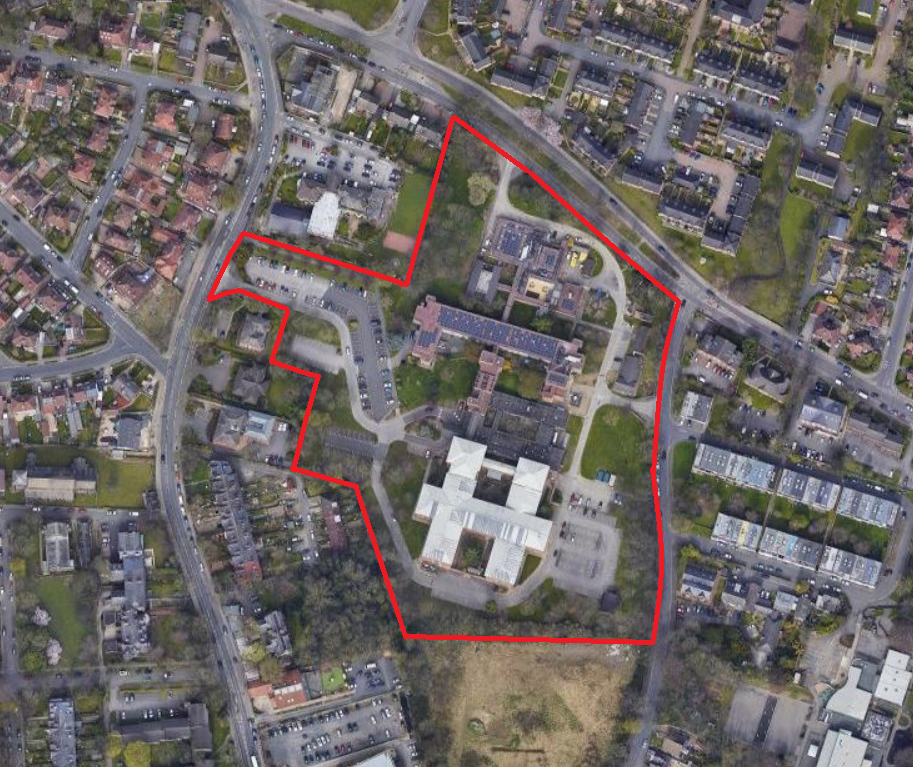 Proposed Development
The proposed development and its composite parts aims to increase the provision of clinical facilities on the Chapel Allerton Hospital site, to refurbish existing spaces in order to significantly improve patient and staff experiences and to provide additional on-site parking spaces to alleviate existing congestion.
The details are currently being finalised and so limited plans are available, but will the development will comprise of:
New Build Elements:
A new Theatre and office extension building;

New surface car park located to the north-east of the site and realignment of the existing surface car park;

Conversion of 12 existing car parking bays to accommodate 3 EVCPs;

Provision of new plant on the roof directly above Ward C7; and

Additional new covered plant on new extension building
Refurbishment:
A new ward space (Ward C7), which will support the new operating theatres;


Replacement of existing windows to Ward C7; and

Block 8 Pharmacy refurbishment
Providing your Feedback
We would welcome your feedback in relation to the proposed development prior to the finalisation of the proposed plans, and the submission of a planning application to the local authority later in 2023.
Comments can be submitted electronically via email to: consultation@dppukltd.com.
Alternatively, please post any feedback to DPP, One Park Row, Leeds, LS1 5HN. Please submit any comments by 3rd July 2023.
There will also be further engagement in the coming months.
Please be aware that comments left on any public consultation exercise, either by email or any other means, are subject to the terms of our Privacy Policy. Please read this policy carefully as by submitting the information you are consenting to our use of your personal data in accordance with the Privacy Policy.
Your personal data will be retained on our secure database and will not be passed to our clients.
We may also like to contact you to keep you informed about future developments relating to this consultation. You will be able to opt-out of these communications at any time.