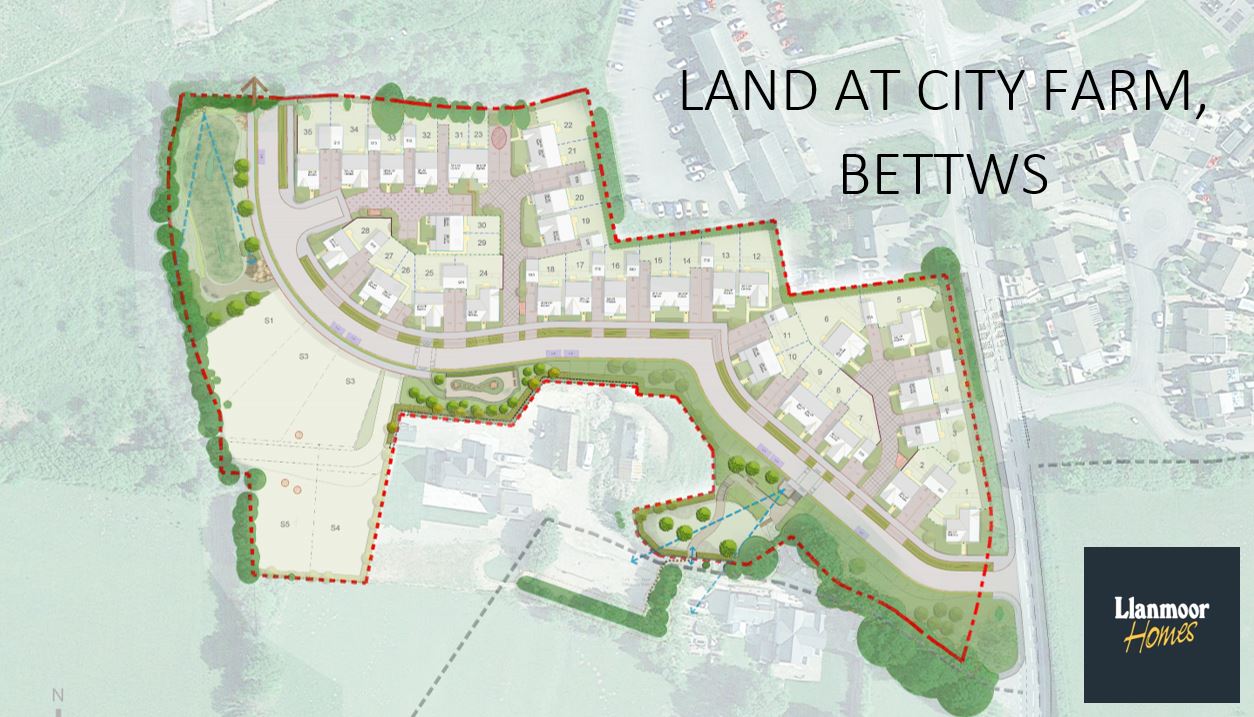 Introduction
Welcome to the public consultation page for Llanmmor Homes' proposals a new build residential development on land at City Farm, Betws.
A planning application for these proposals is due to be submitted to Bridgend County Borough Council shortly, and in line with national legislation we are providing you with the opportunity to view and comment in advance of the submission.
Llanmoor Homes value the input of the local community and would welcome your comments on the proposed development. Details of how to comment are provided below.
---
The Consultation
TOWN AND COUNTRY PLANNING (DEVELOPMENT MANAGEMENT PROCEDURE) (WALES) ORDER 2012.
Proposed development at City Farm, Betws
We give notice that Llanmoor Developments Co Ltd is intending to apply for planning permission to Bridgend County Borough Council for the following development:
"Hybrid planning application relating to residential development. Full planning permission for 35 dwellings along with associated access, landscaping, open space, engineering operations, and associated ancillary works. Outline application for the development of 5 self/custom built homes and associated works."
Prior to formal submission to the Local Planning Authority and in accordance with the requirements set out in Part 1A of the Town & Country Planning (Development Management Procedure) (Wales) Order 2012, the proposal will be subject to pre-application consultation.
All relevant drawings, reports and supplementary supporting documents are made available for inspection and review online below.
Anyone who wishes to make representations about this proposed development must do so by the 31 January 2022.
We would encourage you to provide your comments either via the feedback form at the bottom of this page, via email to consultation@dppukltd.com, or by post to DPP Planning, DESG, 11-13 Penhill Road, Pontcanna, Cardiff, CF11 9PQ
---
Documents & Plans
Below are the relevant plans and documents that make up the proposed planning application submission:
Key Plans and Documents
Other Plans and Documents
---
Feedback Form
Please be aware that comments left on any public consultation exercise, either by email or any other means, are subject to the terms of our Privacy Policy. Please read this policy carefully as by submitting the information you are consenting to our use of your personal data in accordance with the Privacy Policy.
Your personal data will be retained on our secure database and will not be passed to our clients.
We may also like to contact you to keep you informed about future developments relating to this consultation. You will be able to opt-out of these communications at any time.