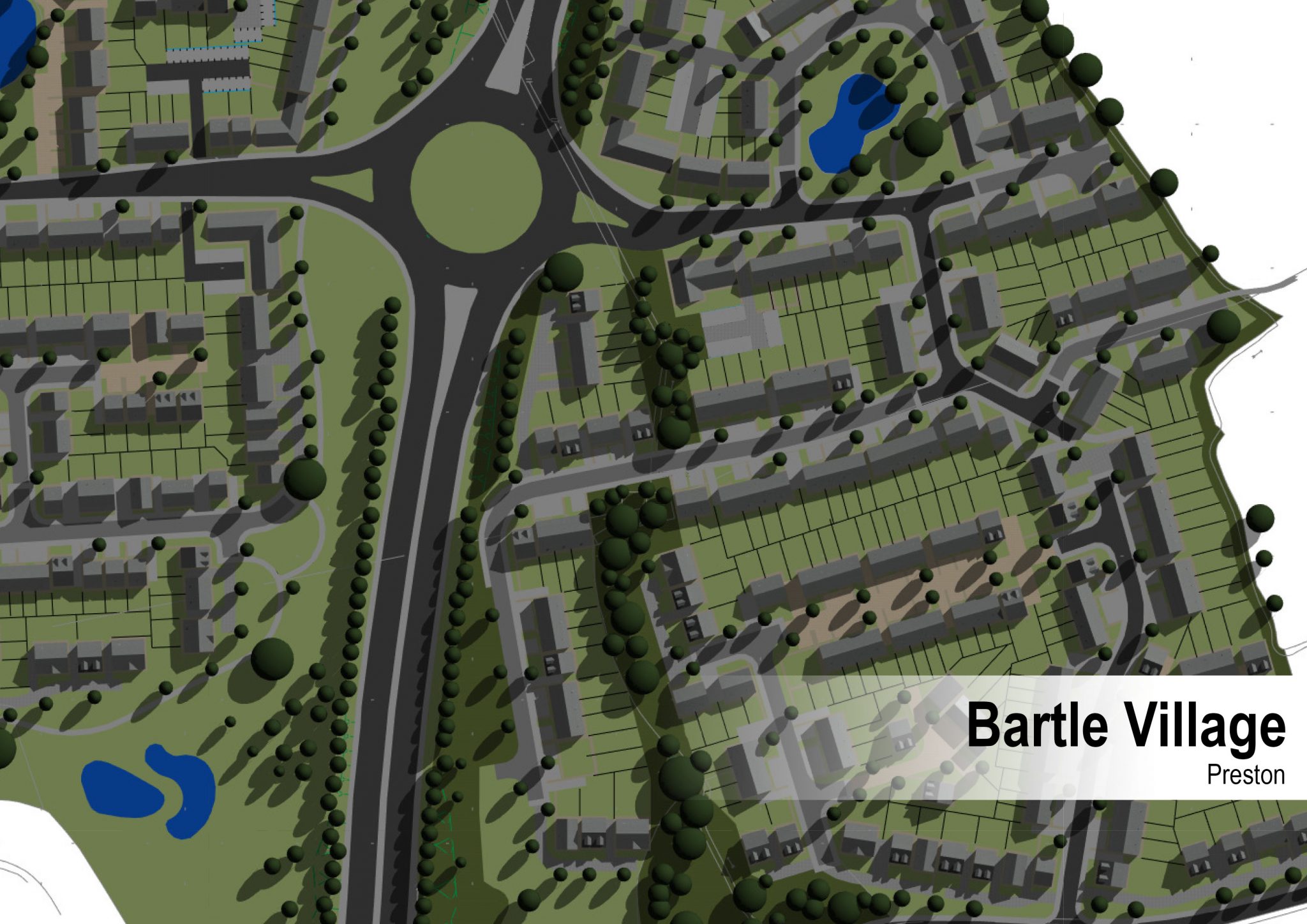 WELCOME – CONSULTATION NOW UPDATED
Welcome to this public consultation website for Bartle Village on land at Bartle, North-West Preston.
In summary, we can confirm that the proposals for Bartle Village comprise the development of a new roundabout on the Preston Western Distributor Road and around 1,100 new homes on land at Bartle in north-west Preston.
We would normally hold a public consultation event on the emerging proposals. This is not possible due to ongoing COVID-19 related issues. So instead we have committed to utilise an online consultation. The consultation will enable you to view the emerging plans for the development and provide your views on it.
6th August 2020 – We would like to let you know that the consultation has now been updated. With a number of comments being received asking that both a school and land for commercial/community uses are provided within the proposed development, we are now seeking comments on an alternative option for development including these uses.
The alternative proposal is for circa 1,050 dwellings with land for a primary school and some commercial/community facilities. At this stage the location of these elements within the indicative masterplan is not fixed, however a plan showing how these could be incorporated into the development is provided below.
Given the inclusion of an additional option for consultation and Robertson's intent to hear all local opinions on the proposals going forwards, the deadline for comments has now been removed. We will continue to accept comments on the proposals going forwards, including once the application has been submitted.
BACKGROUND
The Preston Western Distributor Road (the PWDR) was granted planning permission in June 2016 alongside the Cottam Link Road and the East-West Link Road. In 2018, approval was granted for the compulsory purchase of land required to construct the PWDR, with construction then commencing in September 2019.
Construction work on the PWDR continues on site and is due to complete in 2023.
THE PROPOSAL
The proposed development comprises two elements: a new roundabout on the PWDR for which full planning permission is sought; and outline planning permission for circa 1,100 new homes. As set out above, we are now also consulting on an alternative option for circa 1,050 dwellings with land for a primary school and community/commercial uses. 
The proposed development presents the opportunity to provide much needed new housing within the contexts of the wider North West Preston Masterplan, and would deliver a sustainable extension to Preston as part of a new high quality, mixed use community to meet the city's housing needs for years to come.
Further detail of the scheme is provided on the Consultation Boards below.
PROVIDING FEEDBACK
Once you have reviewed the information, we would encourage you to provide your comments to us via the following means:
By Post to: DPP, One Park Row, Leeds, LS1 5HN;
By Email: info@dppukltd.com; or
Feedback Form at the bottom of this page.
We have now removed the deadline for comments to be received, and will continue to accept comments up until and beyond the application submission date.
Consultation Boards 
The individual boards can be viewed and downloaded below.
Please be aware that comments left on any public consultation exercise, either by email or any other means, are subject to the terms of our Privacy Policy. Please read this policy carefully as by submitting the information you are consenting to our use of your personal data in accordance with the Privacy Policy.
Your personal data will be retained on our secure database and will not be passed to our clients.
We may also like to contact you to keep you informed about future developments relating to this consultation. You will be able to opt-out of these communications at any time.